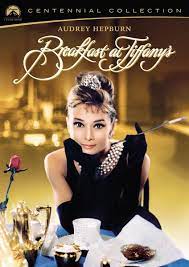 Breakfast at Tiffany's
After one of her frequent visits to Tiffany's--New York City's dazzling jewellery store--and the maximum security Sing-Sing prison for mobster Sally Tomato's weekly "weather report", Holly Golightly, Manhattan's elegant socialite, finds herself infatuated with her charming new neighbour, Paul Varjak. Stuck in a persistent creative rut, Paul, too, lets himself drawn into Holly's superficial world, of course, not because he likes the idea that he reminds her of her brother, but because, little by little, he succumbs to Holly's beguiling allure. Even though they don't openly admit it, the two reluctant lovers have a past that they struggle to keep at bay; nevertheless, are their well-hidden secrets powerful enough to keep them apart? After all, Paul and Holly are meant for each other. Will an early-morning breakfast at Tiffany's be the prelude to a breezy young love?
£10 per person
Includes complimentary popcorn
Dinner & Movie Nights

Get together & choose two courses from our dinner menu before enjoying a movie with popcorn in The Hidden Cinema. Your table is at 6.30pm followed by the movie at 8pm.

£35 per Person, includes 2 courses + movie + popcorn. Please contact us directly to book the Dinner and Movie offer, on: 01326 270270